The Thinker, blown-up and under construction (photo courtesy of Clevelandart.org)
This past week, I continued my classroom-Twitter-alchemy-experiments. It led to some interesting results, so I thought I'd share, since many of my readers have expressed interest in the process I began blogging about here.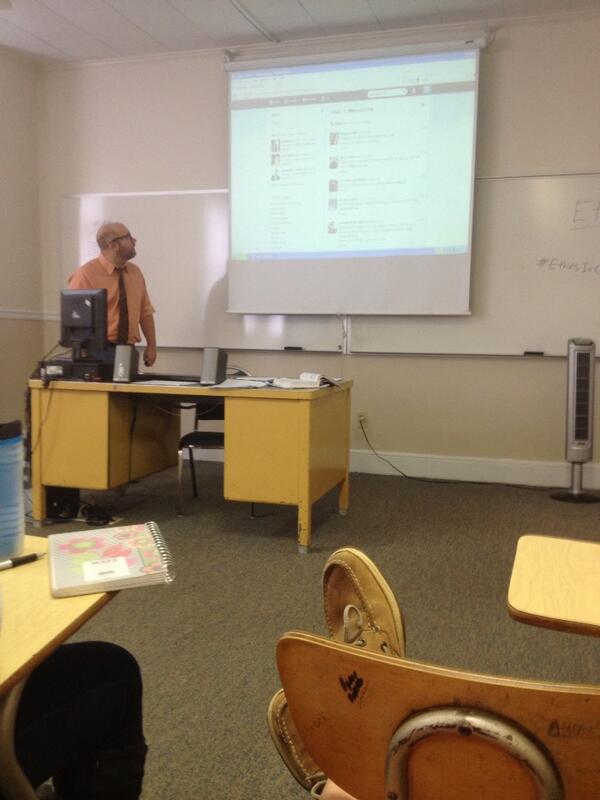 Using the hashtag #EthicsInComp, my classes threw their conceptions of plagiarism and academic integrity into the Twittersphere and we used those responses to open our discussion.
As always, there were a range of responses, from descriptive (what plagiarism is) to general philosophies about personal character and integrity. As each response appeared on the screen in front of us (pictured above – thanks to one of my students for the photo!), we elaborated and had a fairly productive discussion. There was also the humorous moment when one student, unable to contribute anything original, simply re-tweeted his neighbor's submission. We had a laugh about this, but I quickly noted that what the student had, in fact, done was to provide a direct quote (with citation!). A few light bulbs seemed to flash and I was satisfied.
In all, I'm still not sure that Twitter represents a revolution in learning as much as a novel way to capture students' attention for a short time. If the Tweeting continues too long, I notice a slow, but persistent process of students being sucked into their handheld devices and out of my classroom – it's a truly metaphysical moment.
If, however, I can transition quickly enough into an actual old-fashioned classroom activity, then Tweaching has been a great way to grasp their attention (and maybe make them think I'm cooler than I actually am). If any reader has advice about how they use Twitter or electronic media in the classroom, I'd love to hear about it.
Ethics and Learning
Twitter encourages brevity and that is its strength and weakness. My students conception of ethics fit well in the Twittersphere since it was largely slogan-driven. "Don't cheat, because you're only cheating yourself" etc…
One thing I have become convinced of is that we do not spend near enough time talking about the depths of academic integrity. Instead, we satisfy ourselves with razor thin notions of right and wrong. With almost no exceptions, my students told me that plagiarism is as simple as copying material from someone else without citing it. This is the beginning and the end of their thinking on the issue and I think it's a problem.
From this perspective, plagiarism is simply an ethical decision that good people obviously know they will never make. This viewpoint is inadequate because plagiarism and academic integrity are much more complicated than that.
Building on the vocabulary of ethics and morality that our tweeting provided, I posed a few scenarios for my students that sparked a tremendous discussion – I was proud of them.
1). Say that you find out that you are writing about the same short story as your friend. Is it alright to discuss the story in order to learn more about it?
2). Suppose that you go to your instructor to talk about your ideas. Is what he or she says in that meeting OK for you to use in your paper?
3). What do you do if your friends know that you have a better grasp of the assignment than they do and they ask to see your paper, to get ideas about how they might tackle the assignment.
None of these scenarios adhere to the simplicity that the "don't steal" school of academic integrity suggests. In reality, very good people make bad decisions in each of these situations, and that is in large part due to their complexity. There is of course nothing wrong with talking about a story with your friends outside of class. In fact, your teachers would love that. There is a line that can't be crossed, however, and the problem is that the line is ill-defined.
The problem is exacerbated when the line is not only ill-defined, but ill-considered. When we reduce cheating and integrity to simple truisms, we set ourselves up for failure. Life is complex and simple rules do not prepare one for living it.
An ethical life is not lived by rules. It is lived in ambiguity. Avoiding that ambiguity invites disaster.
Please share this if you have the notion. A conversation about ethics wouldn't hurt anyone right now.
Related articles